How to make the best espresso at home
With the knowledge in this post. You'll be able to make coffee better that most barista's.
We will regularly receive inquiries from customers seeking advice on purchasing a coffee machine or exploring the idea of making espresso at home.
If you're considering making coffee at home, it's crucial to take the following three factors into account:
Are you willing to make coffee every morning?
What do you need to know before buying a coffee machine?
What's your budget?
When you looking to make coffee at home, we recommend starting by browsing Gumtree or Facebook Marketplace.
Many people have the same thought process: they love their daily coffee fix, but spending so much money on coffee every day is adding up, so they decide to make it themselves at home and save money.
When having a look at these online marketplaces, you'll find numerous nearly-new machines available.
Quite often people purchase a coffee machine and quickly realize that they don't have the knowledge or motivation to make it themselves every day.

However, with a little bit of knowledge and effort, you can definitely make great coffee at home.
Espresso
When crafting our homemade espresso, we follow a recipe that prioritizes the espresso shot over the milk.
The flavour of your coffee will be majorly represented in the espresso shot.
The recipe consists of three key components: dose, yield, and time.
Dose refers to the weight of the ground coffee that is packed into the portafilter. For a machine similar to the one we use, a dose of 17-19 grams is optimal for home espresso.
Yield, on the other hand, represents the weight of the liquid espresso that is extracted from the ground coffee. We maintain a 1:2 ratio for every gram of coffee used, which means we extract 2 grams of espresso. Using the recipe featured in our video with a 19 gram dose, we yield a total of 38 grams of espresso.
Time is the duration from the moment the button is pressed until the shot is complete. Although this can vary based on the machine and coffee beans, we stick to a 25-30 second timeframe for simplicity. By following these guidelines, we are able to consistently produce high-quality espresso with a perfectly balanced taste.
Adjusting the grind
If you weigh your Dose and Yield but the time is outside of the 25 – 30 seconds this is where you might get those funny flavours creeping in. We just need to follow the following steps to get the time correct.
Before you adjust you're grind check if it's too fast or too slow.
Too Slow? Make courser
Too Fast? Make Finer
Follow these steps
Adjust the grind
Grind a shot of coffee through and discard
Grind a shot of coffee
Weigh the dose
Tamp
Place into the machine and run the shot
If it's still not right repeat from step 1.
Milk
Using quality milk is essential for crafting the perfect cup of coffee. We use Capo barista milk, which has a higher fat content to help it steam well and hold together.
Starting with cold milk straight from the fridge at around 5 degrees, we slightly break the surface with the steam wand, creating a gentle suction sound, this will incorporate a small amount of air into the milk.
Aim to get the air in before the milk heats to 30 degrees. From there, our focus is on achieving the ideal spin and positioning to create the perfect texture.
The serving temperature for milk is around 60-65 deg.
Latte Art
To create beautiful latte art, well-textured milk is crucial.
Overly bubbly milk can make it challenging to achieve the desired patterns, indicating that either too much air was added too late or the surface was broken too aggressively.
When pouring the milk onto the espresso, the tip of the jug must be close enough to the crema to allow the milk foam to settle on top without pulling it under the crema.
We will soon release latte art videos that explore the art of manipulating milk foam to create stunning patterns.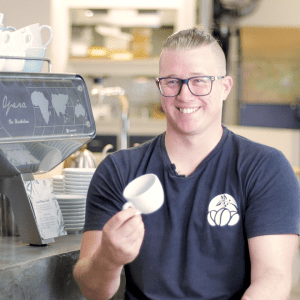 Conclusion
Making coffee at home is a fantastic way to save some money while still enjoying your morning beverage. There is a little bit of a learning curve but you can definitely have great coffee at home if you follow the above tips. Check out our other blog posts to learn more.