The only pour over recipe you'll ever need
Pour Over
How good is black coffee?!? Especially when you have some coffee training and some great coffee. Today we'll be looking at how to make a pour over. Specifically the Hario V60 but it can apply to most Pour Over Devices.
The pour-over method, also known as hand-brewing, filter coffee or drip coffee, is a technique of brewing coffee in which hot water is poured over coffee grounds in a filter, allowing the water to slowly drain through the coffee and filter into a carafe or mug.
Usually the coffee will be filtered using a paper filter which was developed in Germany in 1908. This method has been commonly used in Europe since the 1900s and elsewhere for much longer.
Over the last 10-20 years it has been rediscovered by the specialty coffee movement as it is an incredibly easy way to replicated café quality coffee at home. The unique aspect of this method is that it is mabe by hand-pouring the water over the coffee, which provides a greater degree of control over the brewing process and allows for a more precise extraction of flavour.
In the video above, we are using the Hario v60 2 cup pour over. However, there are many types of pour overs available, such as those made of plastic, ceramic, or metal. Typically, materials that are thicker will maintain temperature better but will require more hot water to reach the desired temperature.
Different pour overs also use filters of varying thicknesses. For example, the filters used in a Chemex are often 20-30% thicker than those used in a v60, which affects the flavour of the coffee. This is because thicker filters allow fewer particles through and take longer for the water to pass through, resulting in more contact time between the water and the coffee.
Ultimately, the choice of filter thickness and device comes down to personal preference. Generally speaking, thicker filters result in more complex flavors but less strength, while thinner filters result in juicier and heavier flavors but less complexity. However, this may not always hold true.
Recipes and Ratio's
Coffee will always get made to a recipe and a ratio. If you don't weigh our your coffee and water, you won't actually know what recipe your using making it very difficult to adjust anything if you aren't getting the flavours you want.
A simple 3 part coffee recipe
Dose: The weight of ground coffee to place into your pour over.
Yield: The weight of water you're using to extract the coffee.
Time: The time from the moment the water hits the coffee until when it drains through the coffee.
The amount of variables when making coffee is incredible, which is why we will make recipes and test and adjust them to change the flavours we get from extraction. When you get comfortable with making a pour over add in some of the following points.
Advanced Pour Over Recipe
Water Temperature
Pour Schedule
Bloom
Time – Weight
Pour 1
Time – Weight
Pour 2
Time – Weight
Pour 3
Time – Weight
With pour schedules at First Fruits Coffee we usually stick to 1 Bloom and then 2 pours. The full advanced recipe for the video above is as follows.
Example Pour Over V60 Recipe
Dose 16g
Yield 256g
Time 2m – 2m 15sec
Temp 93 Deg
Pour Schedule
Bloom: 40g 30 Seconds
Pour 1: 150g – 1m 10secs
Pour 2: 256g
With the time's above in the pour schedule you will aim to begin your next pour at the time mentioned. For example Bloom 40g – 30 second. You will aim to begin Pour 1 at 30 seconds and soon.
Coffee Ratio
At First Fruits Coffee, we have carefully consider the ratio of coffee to water to achieve the perfect balance of strength and complexity in our cups. Our preferred ratio is 1:16, meaning for every 1 gram of coffee, we use 16 grams of water. This method, paired with our unique roasting technique for our single origin beans, produces a consistently high-quality cup of coffee."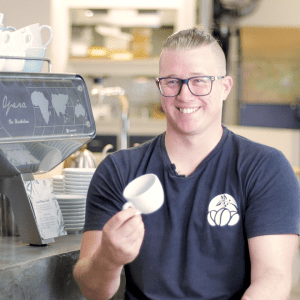 Conclusion
Making pour over coffee at home is an excellent way to achieve café-quality brews without breaking the bank. While our espresso machines at First Fruits can cost tens of thousands of dollars, the filter coffee devices used to make pour overs are affordable and easily accessible. With a bit of training, the right equipment, and some high-quality beans, you can make pour overs just as delicious as those served at our café.
Head to our shop page and check out our coffee range if you wanted something delicious to get you started.
First Fruits Coffee is based on the Gold Coast Australia.
We roast coffee available for use in cafe's as well as for the home barista.
At our training school we love to teach upcoming and new barista's.